Joining the once prestigious Falkirk/Forth valley Academy from a local Perth team (Bridge of Earn) Scott Shepherd like many young Scottish players could not ask for a better place to go and learn his trade.
The Academy has produced a number of talented players over the years, most can now be found playing in The English Championship, with Ryan Blair, Botti Biabi and now regular starter Jay Fulton all at the English Championship club. The last product to come from the Falkirk Academy… Tony Gallacher is residing in the impressive Melwood training centre with Jurgen Klopp's Liverpool.
But back to Perth local lad, Scott Shepherd who talks us through his time at the academy
"School just sort of went out the window, I signed with the 15's and then moved up to the 17's and then before breaking into the first team picture"

"My coach at the time was Stevie Fulton, the club (Falkirk) wanted me in during preseason so football just became my career."

"Alex Smith had a huge part in the academy, he was a legend around the club and he got a buzz and thrived out of developing the younger players."
When speaking about the early days at Falkirk and the academy, you can hear in Shepherd's voice a sense of pride around his association with the academy and what it has done for a number of younger players.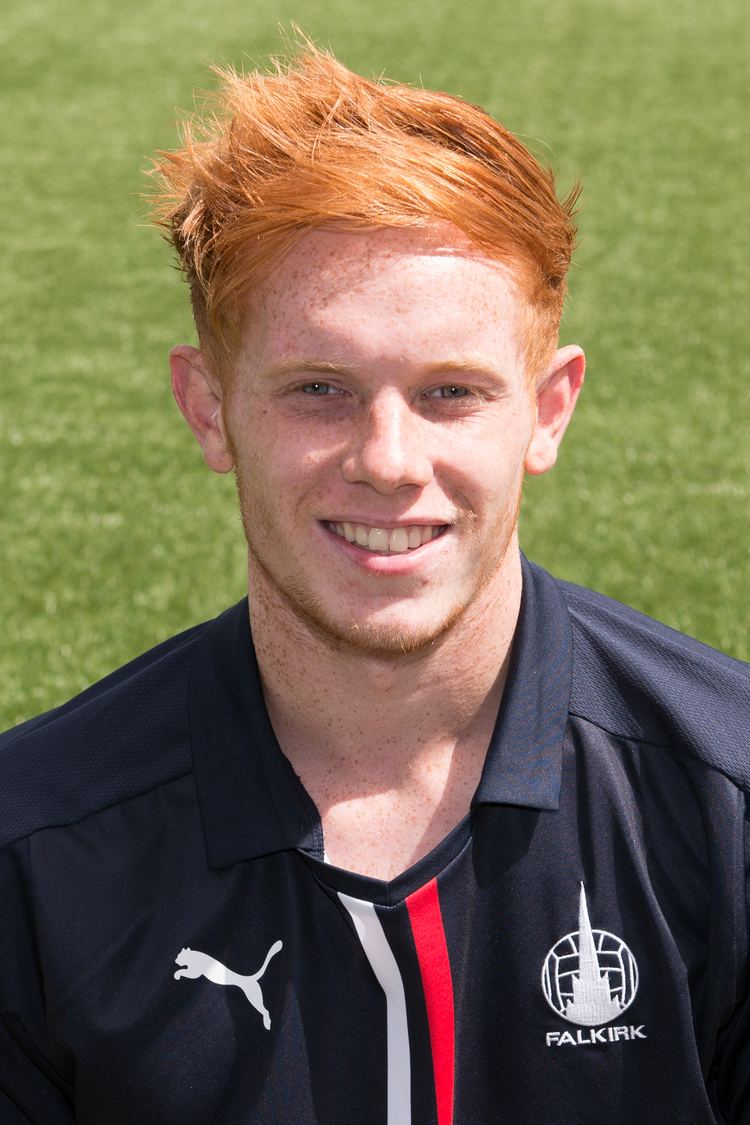 "Our under 17's team was really good and there were always scouts at our games, sometimes they would tell you, sometimes you would know who was there but sometimes you would rather not know because you could try too hard and maybe it would put you off playing your normal game"

"I was in the same group as Botti (Biabi) and Ryan(Blair) who are both at Swansea now and are doing really well for themselves , I still speak to both of them and hearing about how good the players and coaches they are now working with is unreal"

" In my opinion Getting rid of the Academy was a terrible decision, the whole reason they did it was to free up funds for the first team and for the fans looking on ..it's done nothing since. Who do you blame for it? , was it the manager at the time (Paul Hartley) or was it the board.
Hearing what Scott has to say and reflecting upon the decision that Falkirk made to move on from their Academy which was so successful in terms of its production line, it makes the decision to pull the plug even more baffling, especially when you look at the list of players that were brought in by Hartley.
| | | | |
| --- | --- | --- | --- |
| Name | Age | Nationality | Signed from |
| Scott Harrison | 24 | England | Hartlepool United |
| Rees Greenwood | 21 | England | Gateshead FC |
| Mark Russell | 22 | Scotland | Greenock Morton FC |
| Tom Dallison | 22 | England | Brighton & Hove Albion U23 |
| Dennon Lewis | 21 | England | Watford FC U23 |
| Leo Fasan | 24 | Italy | Kilmarnock FC |
| Patrick Brough | 22 | England | Morecambe FC |
| Dimitrios Froxylias | 25 | Cyprus | Dumbarton FC |
| Tom Owen-Evans | 21 | Wales | Newport County |
| Marcus Haber | 29 | Canada | Dundee FC |
| Zak Rudden | 18 | Scotland | Rangers FC Reserves |
| Dylan Mackin | 21 | Scotland | Livingston FC |
| Dan Turner | 20 | England | Port Vale FC |
| Andy Irving | 18 | Scotland | Heart of Midlothian FC Reserves |
Averaging  21.97 years of age and for Falkirk to be languishing where they are and almost in a state of turmoil, It's not difficult to make a case that these players are no better than what they could have produced had they kept the Academy lights on – can this be a lesson for clubs to think about your DNA when it comes to footballing decisions?
Loan Dangers
Like young footballers all over the world, Scott was no different in having to go out and serving his time at a lower level to gain experience and having loan spells at Stirling, Brechin and Edinburgh City.
Much has been said in recent years about the stockpiling that some clubs have done coupled with the abuse that the loan system has received, as an average football fan we maybe don't appreciate how this feels for the players.
"When I went to Stirling I was 18 and I was low on confidence it maybe wasn't the right thing for me, I was not in the right mindset – I had been playing with the Falkirk first team and started to think the worst." 

"I trained part time Tuesday and Thursday with Stirling and the rest of the time with Falkirk, at times it can be hard for younger boys because you can get instructions from your parent club around your development or what they want you to do but then you can go somewhere else and they can ask different things of you."

"You don't really get the 1-2-1 coaching that you would probably benefit from at that age, You understand it's a smaller club and they are doing their best but it's also maybe not right for some boys"

"There are times early on when I was on loan at Stirling and people came out to watch but at Brechin I couldn't tell you whether anyone came to watch or not"

"It's hard to get your head right sometimes with loans and you get what we would call head loss where things are not right" 

"Sometimes for younger boys in they would be better staying where they are than going somewhere they don't know what it is going to be like for them.
Hearing what Scott has to say, there is part of me that starts to challenge the ethics that come with the loan players, is it almost a form of neglect? are the clubs neglecting their talent? Not knowing if your employer actually cares especially for younger players who maybe haven't developed the tough mentality or have that fragility in confidence.
Making Capital out of it
Football can be really cold with its treatment towards players and it acts in a way that most other workplaces would not accept and Scott's case is no different.
"Timing was terrible and the way that it was handled from a Falkrik point of view wasn't ideal, the day before I was due back for pre season, I got a call from my agent who said that Hartley had been on the phone and offered me a payoff for my contract. What they offered was laughable."
We have covered this before at Purefitbaw but football really is a workplace like no other, it has it's own take on employment law and what is considered acceptable would not last 5 minutes in an employment tribunal in any other workplace…in the UK at least.
We spoke about how Scott had little to no time to find a new club but when the news broke that he was available one club acted swiftly. That club was Edinburgh City.
 " 'The gaffer' -( James Mcdonough) he is such a good coach and  was a major influence in my decision. I had other options but James got in contact and I new straight away I wanted to work with him"

"I knew that he had got a good team together, I knew that I could do a job and I felt he could help me find my feet again and that James could help me with that" 

"I felt appreciated, wanted, that's massive for any player ?"
McDonough seems to have had a master plan for this season, with his ability to persuade the likes of former Premiership footballers like Conrad Balatoni and Danny Handling to the club it should come as no surprise they have been able to go on a 12 game winning streak which was shortly followed by the scalp of Championship outfit Alloa in the IRN-BRU cup.
Team-mates and camel trek's
As we sat speaking in Costa Coffee before Scott had to head to training at the prestigious Oriam centre where Edinburgh City train, there was a change in the tone of the conversation from resentment/disappointment about how things ended with Falkirk to positivity and fun with his current employers Edinburgh City.
"Our mentality is everything, a good dressing room with a close bunch of boys but you feel sick when it comes to some of the buses, it's all camel trek's in this league, you go all the way up and then all the way back down and round again. It's mad but you know what's coming and we have done well, like when we went up to Peterhead and won this season which you would hope for after a 320 mile round trip.

These longer trips help though, like full time you see each other everyday but at a part time club you only train a few nights a week, so that helps the boys getting closer and I think the gaffer knew what sort of  players and that they would gel together"
We finished our chat on a lighthearted note in a Soccer AM style team-mates fashion
GM: "Who is the most skillful at the club?"

SS "It's no me anyway, Hard to say but Graham Taylor he is Tricky and Adam Watson who is on loan from Livingston he's good with the ball at his feet"

GM " Who would you least like to get on the wrong side of?"

SS "I have probably been on the wrong side of them all already, I don't think we have anyone like that but Craig Thomson he's got a case of wee man syndrome"

GM " Who is the smartest player in the team?"

SS " Josh Walker and Marc Laird they've got a bit more experience though"

GM "Who is most in love with them-self?

SS "Callum Antell  and Robbie McIntyre 110% – They are as bad as each other but maybe Rab with his selfie's and Instagram posts

GM "Who has the best patter at the team?"

SS " I can tell you who has the worst patter Liam Henderson, He's got the worst patter…Sometimes you are just like what are you even on about"

GM "Who has the worst or best dress sense?"

SS "Conrad is definitely the worst he comes in dressed like a da,but Danny Handling probably thinks he's got the best"

GM " Who is the best at FIFA?"

SS " Antell thinks he is a player but I have never played him but he thinks he is the best at everything he does"

GM "Who is the biggest moaner in the dressing room?"

SS " Need to nominate myself, I can be a moan but so does big Hendo he likes a moan, must be the strikers union."
There is a long way to go in the League Two season but speaking with Scott and listening to the way he speaks about the club and the manager it will be really interesting to see if they can keep up the incredible run they are on and push for the title…