By Derek "Mozza" Robertson (@MozzaPlays)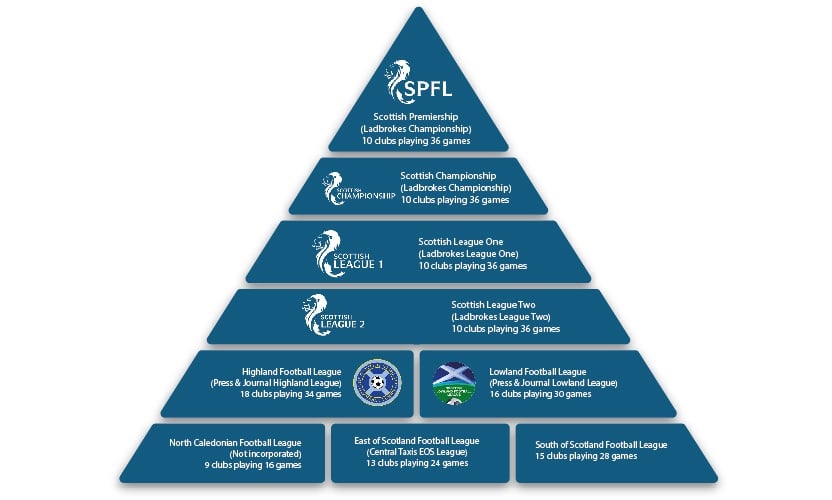 Almost three years ago now, Kelty Hearts shocked non-league Scottish football, indicating their wish to leave the junior grade and join the senior pyramid via the East of Scotland League. Twenty-five more clubs followed suit a year later, raising questions around the Scottish Junior Football Association (SJFA)'s future. In response, a vote of member clubs was held in which a winning margin of 99-55 granted the governing body a mandate to deliver pyramid integration. Now, with the mooted creation of a West of Scotland League following the collapse of talks between the relevant parties, what does the future hold for Scottish non-league football?
I wrote a piece in May 2018 asking if we were witnessing 'the end of the juniors', which in truth, looking back, my conclusion wasn't nearly as controversial as the headline suggested! Having obtained quotes from Kelty Hearts, Camelon & Auchinleck Talbot to try and reflect differing views, the line that now sticks out was in reference to the SJFA secretary – "Strong rumours have broken over the last week that West sides, in particular, will seek to form a 'West of Scotland' league, working alongside the East of Scotland at tier 6, not particularly comforting news for SJFA secretary Tom Johnston as he undertakes his most important assignment yet". Two years on, we find ourselves in a situation of historical repetition.
The question of 'how we arrived here?' can have vastly differing answers depending on the individual asked. (At this point, I should make it clear that I co-host the Lowland League Catchup podcast and support BSC Glasgow, but will endeavour to present a balanced range of opinions on our current situation). Ultimately, we are all non-league, and should all want the best for our own clubs and the wider entity that is Scottish football.
Picking up from the summer of 2018 and the SJFA's historic vote of member clubs, the Scottish Football Association (SFA) reconvened their Pyramid Working Group (PWG). With representatives present from the governing body, and each of the Lowland League (SLFL), East of Scotland League (EoSFL), South of Scotland League (SoSFL) and the Scottish Juniors (SJFA), an opportunity was presented to thrash out a new historic agreement to benefit the whole of Scottish football. Negotiations failed to present an agreed route to integration and thus, the group was again disbanded last month. Whilst no minutes were taken from these meetings, we do have a good idea of the discussions and sticking points which failed to be overcome en route to a final solution.
Both the Lowland and East of Scotland leagues recognised the need for a 'west' feeder below tier 5. The South of Scotland is perceived to now be considerably weaker than its eastern counterpart, with several member clubs conveying a level of comfort in maintaining their position and having no intention of ever moving up the levels. In the end, the main sticking point came from Tom Johnston's stated requirement of his association moving across to the pyramid 'as one' with no-one left behind; with an east feeder league already in place in the EoSFL, and not wanting to co-exist with a reduced East Region of the SJFA covering the same geographical area, this requirement could not realistically be achieved, despite assurances being given to the contrary. Initial talks concerning a potential merger did not progress and an insurmountable logjam was left in the way of an agreement.
Conventional wisdom dictates that the West Region of the SJFA could slot seamlessly into the pyramid with ease at tier 6. Likewise, the oft-neglected North Region could sensibly exist below the Highland League, acting alongside the North Caledonian League as feeders to tier 5 in the north of the country. I firmly believe, and have been assured by parties involved, that both scenarios would have been agreed if issues in the east region had been addressed and resolved by the PWG. The eventual failure to obtain an agreement has now resulted in talks of a previously-rumoured West of Scotland League (WoSFL) coming to fruition as a result of Lowland League and EoSFL co-operation.
"It's been obvious for some time that there are geographical gaps in the pyramid system. We are paying particular attention to the gap in our area, the West". Lowland League chairperson George Fraser has been the SLFL's representative throughout the PWG process, having taken up the mantle with regards balancing our pyramid in the region. "We want a fully functioning pyramid, affording all clubs in all grades the opportunity to participate at a level to which they aspire. A North league would complete the geographical anomalies which currently exist."
It is a role that presents inevitable challenges; while looking after the needs and wishes of his member clubs, questions around increasing movement between the SLFL and leagues below are now becoming louder. "As you know we are a members organisation, and the members are aware of the permutations regarding promotion/relegation. It is a situation which will continue to be discussed with all parties concerned". Every club in the tiers below the SPFL would like to see League 2 contain an automatic relegation spot in the future. As a champion of this cause, George will soon see the circumstances turned on himself when the new WoSFL becomes an active campaigning voice alongside its counterpart leagues in both the South and the East.
It's fair to say that a new WoSFL has not been given universal backing. Several junior clubs re-asserted their backing of the SJFA while retaining the ultimate aim of joining their senior counterparts in the pyramid. "I cannot say too much at this moment in time, but suffice to say we will do all we can to ensure everyone is content at the end of the process – all about positivity," Gordon Ronney tells me. As secretary of highly respected West Region side Kilbirnie Ladeside – Ronney has been openly vocal in his defence of SJFA clubs sticking together as per Tom Johnston's requirement. "I firmly believe in our association & the clubs that make it an attractive product. I also think further dialogue with all PWG parties can achieve mutual benefit for LL/EoS/SoS".
This is an important point to raise – should things progress as seems the inevitable outcome, West Region SJFA sides will leave their association by joining the WoSFL. Individuals like Johnstone will find their influence greatly diminished as their members move on, potentially even losing their positions if the change is seismic enough, however, Gordon's overall goal remains clear: "Kilbirnie Ladeside, as well as all other junior clubs, must be part of the pyramid structure. We all signed up for that process."
 Two West Region clubs generally seen as leading the charge towards pyramid integration are Clydebank and Kilwinning Rangers. Colin Boyd is chairman of the latter and does not anticipate much change by joining the inaugural WoSFL next season. "In the short term we don't see much change in the future, we'll be playing who we normally play for the most part. We've been a bit of a yoyo club so we've played Kello and Winton more in recent years than the traditional rivalries of Meadow and Talbot."
"The interesting thing is now clubs are focused on improving their grounds, Meadow, Talbot, Cumnock, Clydebank and many others are talking about community club status, this is something that hasn't happened wholesale before and could end up being the saving grace for some clubs. We found out that parents felt our old ground, Abbey Park, was unsafe for kids, so found it hard to attract new fans, and these improvements to other grounds will open the game up to a new generation". This issue is clearly not unique to Kilwinning. Clubs are looking to secure their futures and retain their positions of influence in the community, an ever-harder task in the age of Scottish children being likely to watch more football on TV than in the flesh.
When it comes to joining the senior ranks, Colin draws a direct parallel between this need to improve facilities and the club's wish to move. "Our plan for moving ground was totally based on pyramid access, we might never win the league and gain promotion however as custodians of the club we are here to make sure the club is fit for the future. Improving the ground and having pyramid access means that we've got the club ready and in years to come maybe some players from the youth teams stick together and decide to bypass pro youth to see how far they can take the club. Whilst we'll try to win the league every year, it might be a "Golden Generation" that's home-produced that decides to go up the leagues. We can't deny our 300 youth team members the chance to play at the highest level".
Another club in the region that face similar challenge are St Anthony's FC. They have taken a very modern approach to growing their fanbase and sphere of influence, combining clever use of social media with the world of e-sports and kit collection (amongst others). However, unlike their counterparts at Kilwinning, the Ants believe that SJFA clubs should not split apart by some applying for the WoSFL. When asked for his ideal outcome of the current situation, Head of Digital and Social Media, Martin McKenna, retains his faith in the SJFA position. "The West Region is already going with 63 clubs in total, so our Premier League clubs to join at tier 6 and be available for playoffs to the Lowland League if successful. Our divisions below to act as feeder leagues to the top division that would support clubs and the West Region as a whole."
The Ants sit at the bottom of the West Region in SJFA West League Two. As an ambitious club, they see a bright future ahead. "Naturally, it is every club's ambition to play at the highest level and we are no different – our ambition is to climb the leagues from within the juniors, that's why we made the statement to stay strong, we think it would be a simple but a strong solution." With recent developments, however, this proposed solution appears set to fall by the wayside. Over twenty fellow junior clubs have now expressed an interest in the mooted WoSFL, which is now all but certain to form barring a dramatic injury-time intervention.
Part of the reason so many clubs are confirming their potential readiness to leave the SJFA behind, comes from the success of former compatriots in the East Region. Just three years after Kelty Hearts broke the mould, and two since Bonnyrigg Rose followed suit, both sides find themselves fighting to capture the Lowland League title and a potential golden ticket to the SPFL promotion playoffs. "Hindsight always gives 20/20 clarity," Brendan Parkinson begins. As a man of many talents, he holds the position of Press, Media and Communications Officer for Rose as well as being the club treasurer. "We were doing what we believed was best for Bonnyrigg Rose and we were moving with a plan".
"At the time of us calling the EGM at the start of March 2018, there were only two clubs (Dalkeith & Blackburn) that had declared publicly their intentions to move to the EoSFL. Speculation was rife within football forums and printed press alike about what the EGM was about and we couldn't stop that. We spoke to our management team beforehand and they were on board, as were the playing squad. We set them the target of winning the league as that would gain us Scottish Cup entry for the following season which would allow us more leeway with working towards our license. In the end, we saw what happened with lots of other clubs following suit with moving to the EoSFL but none of that was factored into our decision at the time."
Club Licensing was a major reason for Bonnyrigg and other clubs making the leap. "We had been looking at gaining an SFA license for several years and the only clear way of doing that back in 2018 was by joining the EoSFL. We had come out publicly the previous year to say that if a decision was to be made on moving associations we would ask our members to do so, as we are only temporary custodians of a club that will be going 140 years next year, and for over 120 of those we had been members of junior associations". Just like the current situation, opinions were expressed on either side of the debate. "As is the case now, it was a highly emotive subject and a small but extremely vocal minority made their feelings clear on the intended move, a lot of which was personal to committee office-bearers. Some of those have since said that it has been a great move and they were wrong to oppose it but as per the opening sentence, hindsight is a wonderful thing and we didn't have the benefit of it at the time."
The major difference in 2020 is that several case studies now exist for potential WoSFL clubs. Brendan is effusive in his praise for those involved with the EoSFL setup – the same people that are now collaborating with the SLFL to set up the proposed league. "I have to start with the complete selflessness of the EoSFL teams to allow the swathe of newcomers into the league at the same level in 2018, and then to run conferences again this season and choose to do the same next season. In an ideal world I would like to see this replicated in the leagues above (including our own), but understand that these things take time as the pyramid is still a relatively new concept in the grand scheme of things and change sometimes takes a while to implement."
The benefits of joining the senior leagues did not stop for Rose at guaranteed Scottish Cup entry, having gained their license. "A full fixture list at the start of the season! I don't think it is a coincidence that our attendance increased last season despite not playing our 'traditional' rivals, as it allowed people to plan ahead for games. We've seen a repeat of that this season. A lot of teams moved across with us so no real changes from that aspect, and while we are new to the senior leagues we've been on good terms over the years behind the scenes with EoS/LL teams as a lot of them are based in the Lothians/Borders area."
While I have focussed on the Lowland area in this article, it would be remiss to ignore ongoing discussions in the north of the country. Unbeknown to many, there have also been separate negotiations between the Highland League and potential feeder leagues in the North Caledonian and SJFA North Region. I can reveal that the North Caledonian League (NCL) have agreed in principle to become a tier 6 feeder to the Highland, which until now has been entered by invitation only – however, the junior sides are hamstrung by awaiting the result of what happens in the Lowland between their association and the senior pyramid. Should we progress to the likely scenario of several sides joining the new WoSFL, do not surprised to see either the SJFA North Region or a new Grampian & Tayside League emerge to complement the NCL at tier 6.
Still with me? It's been a process that has, like many things in Scottish football, become far more complicated than it ever needed to be. We started by asking what the future holds for non-league football in our country, and it now seems inevitable that we will finally have some semblance of balance down towards grassroots levels. The ideal pyramid is a setup where a group can theoretically start a local club anywhere in the country and proceed to join their local league, with dreams of reaching the top level being possible (if extremely unlikely). Should the likely process unfold, we'll be left with localised divisions all over the country which tie in directly to the levels above.
There are several issues remaining and changes left to be made. However, the only way to overcome these obstacles is to get mutual agreement – with all clubs under one banner, this will become much easier to achieve. Promotion and relegation need to be expanded further, encouraging a full rebalancing of leagues, while standards in facilities and administration must be fairly implemented without putting too much pressure on community sides. The junior leagues will not die, despite the groans of doom-mongers and those who hold sepia-tinged memories of a bygone age that has long since departed: Gordon Parks recently declared that "the juniors should be cherished as a level of football which retains a connection with the community", while in truth this is the case with of all the leagues mentioned in this piece.
So, back to the question at hand. Our non-league football in the next few years will consist of ever-stronger Highland & Lowland Leagues at tier 5, supplemented by exciting feeder leagues covering smaller regions. Expect the SJFA to continue as a separate entity, with a reduced influence in stature and member clubs potentially leading to closer integration with amateur ranks that are struggling to compete with other pursuits and influences in many areas. Community clubs will be presented with a choice of joining the pyramid with ambitions of progression, or local leagues which will foster more of a social spirit – if you ask me, that doesn't sound too bad an outcome! How we got here has been less than ideal. Finally, however, we are on the verge of achieving some semblance of finality in our football system.